"Dedicated and brilliant"

review of kims childcare - Childminder in Crawley
---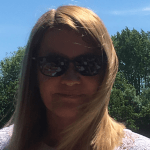 Reviewed
Dedicated and brilliant
I feel very privileged that I have a child minder as dedicated, brilliant and warm as Kim. She is a highly skilled and experienced child minder, with a thorough knowledge of children's development and needs.

Throughout the day, Kim provides a huge range of learning opportunities and experiences, including taking my children to a local play session which enables them to socialise further, the library and various parks! I am always amazed with the environment she provides- it's a bit like a mini playgroup but so much more homely and warm. At the start of each day, my children sit down with Kim and decide on the activities they want to do from playing with lentils or cornflour in the water tray, painting on the easel, rubbing coins, playing imaginatively, creating with play dough and so the list goes on!!!
My children absolutely love going to KIm's and have formed a wonderful bond with her and also her boys too. This is fabulous for me, as I know my children are with someone they adore, being well looked after and learning in the most fun ways!

I can't recommend Kim highly enough ( and Mum's of the over 3's, because she is accredited -basically trained to such a high standard -it means just like at playgroup's or Nursery's you can use up to 5 session Government funding as payment! Perfect! )

A great find and certainly not one to overlook!
by poppy211