FREE SELF DEFENCE CLASSES for Children from The Jiu Jitsu Foundation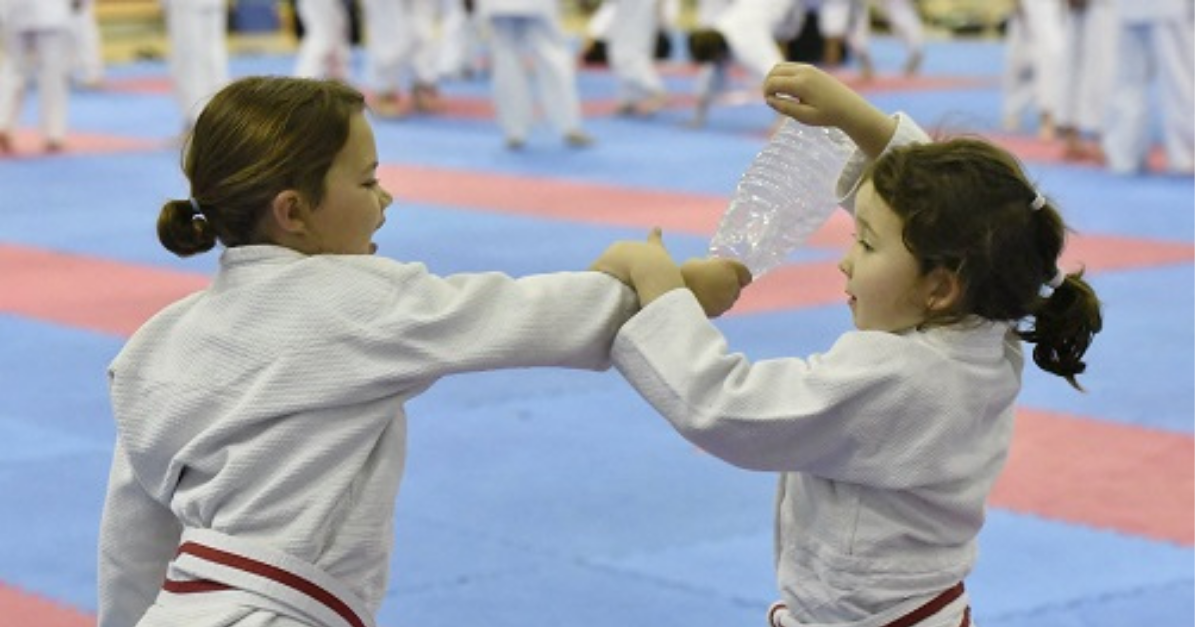 We are delighted to announce that we've once again partnered national with martial arts organisation The Jiu Jitsu Foundation, to offer free self-defence classes to children ahead of Anti Bullying Week 2019 (Monday 11th-Friday 15th November).
Following the success of last years' campaign, which saw thousands of parents across the UK sign up for the free sessions on offer, it was a no-brainer for us to bring it back for 2019, and this time we're able to offer double the number of free classes as last year!
Sadly, bullying continues to be a serious issue affecting millions of children across the UK. Data from the NSPCC's latest annual statistics report found that bullying is the most prevalent type of 'inappropriate' content seen online, with 25% of primary school students and 33% of secondary school students saying they had seen bullying online.
In 2017/18, the same report found that bullying was the most commonly reported form of inappropriate content, with 18% of all site reviews mentioning bullying.
In response, we have again teamed up with The Jiu Jitsu Foundation to offer our members free junior self-defence classes, helping young children not only learn how to defend themselves, but build self-confidence, develop leadership skills, make friends and become more active.
The first 1,000 members of Childcare.co.uk to register their interest by 11.59pm on Saturday 30th November will receive a full month of free classes for their child.
Members can apply to receive a month of free junior self-defence classes:
Apply For Free Self Defence Classes
The Jiu Jitsu Foundation is the largest single-style Jiu Jitsu organisation in the UK and aims to teach children a variety of martial arts skills and situational awareness, as well as encourage children to respect and eventually teach each other to develop their confidence.
Organised by the Anti-Bullying Alliance, Anti-Bullying Week aims to unite people to take a stand against bullying and raise awareness of the effect that bullying has on the lives of children and young people. The theme of this year's Anti-Bullying Week campaign is 'Change Starts With Us'.
Richard Conway, founder of Childcare.co.uk, said,
"It's incredibly sad that bullying is still such commonplace in 2019. Whether face to face or online, bullying can truly devastating impact on children and adults alike, which is why the work of organisations like the Anti-Bullying Alliance is so important.
"We're very excited to announce our partnership with The Jiu Jitsu Foundation for a second year – last year's campaign was a huge success, so it's fantastic to be able to offer even more free spaces to our members this year. We hope that by offering these classes, hundreds more children across the UK will have the chance to build their confidence and learn something new!"
Gareth Horgan, Operations Manager at The Jiu Jitsu Foundation, commented,
"The Jitsu Foundation is a non-profit organisation that teaches the self-defence based martial art of Jiu Jitsu. Our aim is to bring consistently high-quality Jiu Jitsu to as many people as possible across the globe. In doing so our Junior arm seek to provide life changing skills and experience for children, young adults and their families. We are delighted to have again been chosen to partner with Childcare.co.uk to offer their members and associates training in Jiu Jitsu."

Apply For Free Self Defence Classes
Terms and Conditions
• By entering, you're agreeing to let Childcare.co.uk share your data with The Jiu Jitsu Foundation to arrange free sessions.
• One junior place only will be offered per Childcare.co.uk member.
• Places will be allocated on a first come, first served basis up to 1,000. All entries must be made by 11.59pm on 30th November 2019.
• Age range may differ at local clubs.
• Number of classes offered may differ at local clubs.
• Offer subject to spaces available.
• Parents/guardians must remain in attendance during sessions.
• Parents/guardians must fill in licence form before the first training session.
• Parents/guardians should check restrictions with local clubs via an enquiry form on relevant club page of jitsufoundation.org.
• Successful entrants will be contacted by The Jiu Jitsu Foundation to arrange their sessions.
• Due to the expected volume of applications, unsuccessful applicants will not be notified.
Don't have an account? Register free today
Sign up in one minute, no payment details required.
Member benefits include:
Add a free profile detailing your requirements or services
Search by postcode for local members near you
Read and reply to messages for free
Optional paid services available