Free self defence classes offered to Childcare.co.uk members ahead of Anti-Bullying Week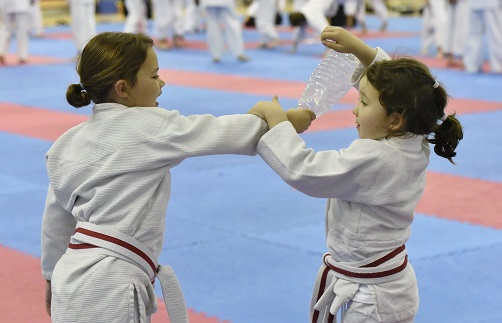 We know that bullying can have a massive impact on children but sadly, it is still an issue facing millions of young people across the country.
We recently surveyed 5,000 Childcare.co.uk members and discovered that 52% of parents said they are worried about bullying above other concerns, including childhood obesity, internet safety and stress.
A separate report by the RCPCH has also revealed that 30% of 11–15-year-olds in England experienced bullying one or more times in the previous two months, while further data from UK children's charity NSPCC found that there were over 19,000 Childline counselling sessions with children about bullying in 2017/18.
In response, we have partnered with national martial arts organisation The Jiu Jitsu Foundation ahead of Anti-Bullying Week 2018 (12th-16th November) to offer free self-defence classes to children affected by bullying.
The Jiu Jitsu Foundation is offering Childcare.co.uk members 8 free self-defence classes for children aged 8+ over the course of a month, helping youngsters not only learn how to defend themselves physically, but become more active, develop leadership skills and build their self-esteem.
FIVE HUNDRED children will receive up to EIGHT free self defence sessions with our help
The first 500 Childcare.co.uk members to register their interest by 11.59pm on 30th November 2018 will receive a full month (up to eight sessions) of free classes for their child*.
Members can apply to receive a month of free junior self-defence classes:
Apply For Free Self Defence Classes
The Jiu Jitsu Foundation is the largest single-style Jiu Jitsu organisation in the UK and aims to teach children a variety of martial arts skills and situational awareness, as well as encourage children to respect and eventually teach each other to develop their confidence.
Anti-Bullying Week 2018, organised by the Anti-Bullying Alliance, aims to unite people take a stand against bullying and raise awareness of the impact of bullying in schools, colleges and organisations across the UK. The theme for this year's Anti-Bullying Week is to choose respect over bullying.
Richard Conway, founder of Childcare.co.uk, commented:"We know that bullying can have a devastating impact on a child's self-confidence, and as a parent myself, it's heartbreaking to hear that so many children are bullied in the UK.
"That's the reason for our partnership with The Jiu Jitsu Foundation. Martial arts offer some fantastic benefits for children – while they are learning to defend themselves physically, these classes have a number of additional benefits, including physical exercise, self-discipline and self-esteem.
"We hope that by offering these classes, children across the country will have the opportunity to learn something new, make new friends and ultimately build up the confidence they may have lost."
Gareth Horgan, Operations Manager at The Jiu Jitsu Foundation, said:
"At the Jiu Jitsu Foundation, our aim is to bring consistently high-quality Jiu Jitsu to as many people as possible across the globe. In doing so, our Junior arm seeks to provide life changing skills and experience for children, young adults and their families. We are delighted to partner with Childcare.co.uk to offer their members training in Jiu Jitsu."
Martha Evans, Director of the Anti-Bullying Alliance, said:
"We are delighted that Childcare.co.uk and The Jiu Jitsu Foundation are supporting Anti-Bullying Week. Self-defence classes for children can help build their self-confidence and set an example that bullying is never OK. This year we want all children to understand that bullying is a behaviour choice, and we can all 'Choose Respect' for other people."
*Terms & Conditions
- By entering, you're agreeing to let Childcare.co.uk share your data with The Jiu Jitsu Foundation to arrange free sessions.
- One junior place only will be offered per Childcare.co.uk member.
- Places will be allocated on a first come, first served basis up to 500. All entries must be made by 11.59pm on 30th November 2018.
- Age range may differ at local clubs.
- Number of classes offered may differ at local clubs.
- Offer subject to spaces available.
- Parents/guardians must remain in attendance during sessions.
- Parents/guardians must fill in licence form before first training session.
- Successful entrants will be contacted by The Jiu Jitsu Foundation to arrange their sessions.
- Due to the expected volume of applications, unsuccessful applicants will not be notified.