Free Creative Steps Magazine Winter 2023 Edition

New Winter 2023 edition out now!
Creative Steps is a unique quarterly magazine providing everyone caring for young children up to age 11 with dozens of fun, creative activity ideas, all designed to encourage learning through creative play.
Creative Steps magazine is perfect for anyone working with or caring for young children – including childminders & nannies, nursery & Montessori settings, pre-schools & playgroups, early years & primary school teachers, after school & holiday clubs, SENCOs, home educators and, of course, parents & grandparents!
Childcare.co.uk gold members are able to access the latest online issue for free and try out the many great activity ideas.
Gold members can view the magazine by clicking the Creative Steps link from the Gold Membership menu when they are logged in to their Childcare.co.uk account.
In this issue - Autumn 2023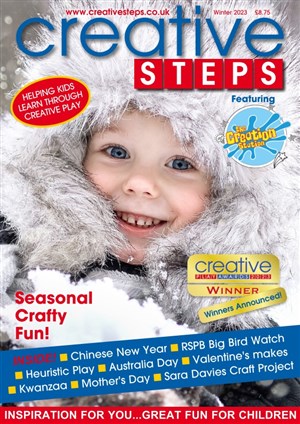 The latest WINTER 2023 issue of Creative Steps is packed with fun seasonal crafts & activity ideas to encourage learning through creative play throughout the coming months – perfect boredom-busters for keeping your kids engaged and entertained! This issue includes dozens of fun ideas for your kids to enjoy – including: Heuristic Play, Kwanzaa crafts, Chinese New Year ideas, Burn's Night, Australia Day, Valentine's and Mother's Day makes and much more… plus book reviews, fun facts, printable templates and prize giveaways!
This issue also includes a feature from 64 Million Artists encouraging you to explore your creative self in the January Challenge, plus an easy craft project from Sara Davies, the queen of crafting, taken from her latest book Craft Your Year.
There are £100's of fabulous games, toys, books and resources for you to WIN in our free-to-enter Winter prize draws/giveaways – see page 66 in the issue for details on how to enter.




Plus Read Back Issues Free!
Gold members can also view back issues of Creative Steps magazine from 2013, 2014, 2015, 2016, 2017, 2018, 2019, 2020, 2021, 2022 and 2023!
Don't have an account? Register free today
Sign up in one minute, no payment details required.
Member benefits include:
Add a free profile detailing your requirements or services
Search by postcode for local members near you
Read and reply to messages for free
Optional paid services available