Free Creative Steps Magazine Summer 2021 Edition

New Summer 2021 edition out now!
Creative Steps is a unique quarterly magazine providing everyone caring for young children up to age 11 with dozens of fun, creative activity ideas, all designed to encourage learning through creative play.
Creative Steps magazine is perfect for anyone working with or caring for young children – including childminders & nannies, nursery & Montessori settings, pre-schools & playgroups, early years & primary school teachers, after school & holiday clubs, SENCOs, home educators and, of course, parents & grandparents!
Childcare.co.uk gold members are able to access the latest online issue for free and try out the many great activity ideas.
Gold members can view the magazine by clicking the Creative Steps link from the Gold Membership menu when they are logged in to their Childcare.co.uk account.
In this issue - Summer 2021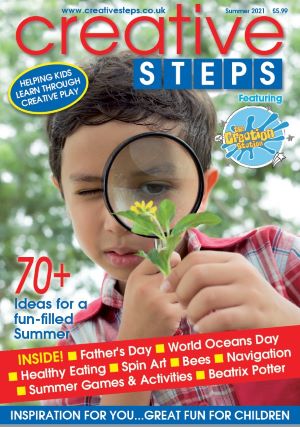 Exclusively for Gold members, here is your new SUMMER issue of Creative Steps, packed with dozens of fun crafts & activity ideas to encourage learning through creative play throughout the coming months.
With more than 70 inspiring, fun summer-themed crafts and creative activity ideas for your kids to enjoy – including: Father's Day cards and gifts to make, projects to mark World Oceans Day, Woodworking in childcare settings, Spin Art, learning about and helping Bees, summer games and activities and much more… plus book reviews, fun facts and printable templates.
PLUS! There are more than £1750 of fabulous games, toys, books and resources for you to win in our biggest ever free-to-enter prize draws – including exciting games bundles from Orchard Toys.


Plus Read Back Issues Free!
Gold members can also view back issues of Creative Steps magazine from 2013, 2014, 2015, 2016, 2017, 2018, 2019, 2020 and 2021!
Save 50% when you subscribe to the printed magazine
If you would prefer to receive the printed magazine, delivered to your door four times a year, containing more than 400 super activity ideas for you and your children to enjoy, we have negotiated a special 50% discount for gold members, reducing the Creative Steps subscription to just £14.90 per year. This is a strictly time-limited offer that ends on 30th September. Click here to get 50% off the print edition.
Don't have an account? Register free today
Sign up in one minute, no payment details required.
Member benefits include:
Add a free profile detailing your requirements or services
Search by postcode for local members near you
Read and reply to messages for free