"The best childminder I know"

review of Active - Babysitter in Harrow
---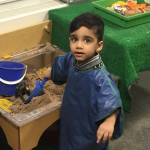 Reviewed
The best childminder I know
My son has been coming to Kishwer (Activekids Childcare) for two years now.

I had never used a childminder for my son before. I knew he would be quite challenging for any setting as I had been informed by his school and other play schemes that he had attended. My personal circumstances were affecting his behaviour. However now that i needed a home based childcare setting for him because of my work requirement (kishwer provides flexibility perfect for shift work), I found Kishwer through a friend.

I am amazed at how Kishwer has managed him despite his unruly or demanding behaviour time to time that now he follows my instructions more attentively as well as his general attitude has become much better towards others too.

Kishwer has very effective behaviour management policy (because it's worked for my son). She is consistent in her practice too.

She is loving and caring as well as fair and just. she strikes the right balance and is not prejudiced when it comes to dealing with children day to day matters. Her house is clean and welcoming. I have noticed kids love her setting routine and look forward to their snack time most as she always prepare fresh healthy snacks and meal for them.

Finally I don't need to look for another childcare provider anymore at least until I am in employment. Thanks Kishwer !
by keenkish