"Nanny whilst visiting a different area"

review of Karen - Nanny in Cinderford
---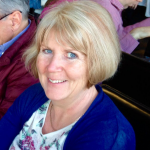 Reviewed
Nanny whilst visiting a different area
Karen provided us with 3 1/2 days of nanny cover whilst we were visiting her area. On the lead up, she was very conscientious, providing us will all her papers, certificates and a number of different references: who all spoke so highly of her. We arranged a video-call so we could meet face-to-face and we were really struck by how much effort she put into making it so easy and smooth and we really established a trusting relationship before we even met in person.
On the first day, we couldn't get over how quickly our 20 month old took to Karen. She came to where we were staying/working and he was happy to go outside and play and be in her company. We often spotted them smelling the flowers, throwing sticks in the stream, wondering around the grounds - really happily and easily.
Hudson got sick and Karen was so helpful in advising us about where to go for treatment and medicine as well as willingly adjusting her time to come and help.
We will be using Karen for sure next time we are in the area! I only wish we lived closer so we could use her more often. I highly recommend and trust Karen with our little boy who adored her.
by
Vickers