"Professional childminder with personal touch "

review of Sarah - Childminder in Altrincham
---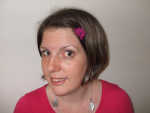 Sarah
Childminder
Altrincham

Reviewed
Professional childminder with personal touch
Our little girl has been four days a week with Sarah for over a year now and we are really happy with our choice. We were initially torn between the promised structure and curriculum of a nursery and the more "natural" environment and flexibility offered by a childminder. When we found Sarah her enthusiasm and expertise meant we were confident she'd offer the best of both worlds. We also liked some of the details like the use of public transport and visits to museums and various play groups. Our little girl certainly has some adventure!

My parents are both teachers and they are both really impressed with there granddaughters development and enjoy reading the regular reports. We get a lot of information about up coming activities and I've learnt a thing or two about different cultural festivals Sarah's introduced too. This reassures us she's having a stimulating time but also helps us link activities together when we enjoy our precious weekends together.

The house is great for the purpose. Sarah rotates books and toys in the living room which is always clean and tidy before our daughter starts getting involved. There's clearly a lot of engaging activities and we like that our 20 month old has been playing with older kids as well as her own age for the past year or so. Cellar contains a play room with ball pool and other exciting games. The garden is also on the agenda and we also know that the local parks get a look in so there's a good mix of our door activities too.

We get a detailed daily log book with activities and latest eating and nappy related info plus occasional txts and formal termly reports. We also receive loads of crafts that have been produced by our daughter and she enjoys discussing them with us.

In conclusion we can tell our child really enjoys her time with Sarah, we are sure it's really boosted her development and we could not recommend her more highly.
by Matt A
Response from Sarah
Responded
Thank you very much for your comments. I really try my best to make learning fun everday and I am glad that is shows.