"Amazing Maternity Nurse"

review of TWIN MATERNITY NURSE - Maternity Nurse in London
---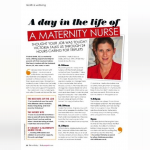 Reviewed
Amazing Maternity Nurse
Vicki joined us when my daughter was 3 weeks old and worked her magic from the offset!

She came highly recommended from two sets of friends, so while we never questioned her ability, I was nervous about having someone in our home for 4 weeks around the arrival of our first child but I can honestly say we never looked back.

We explained to her at the beginning that we wanted to be hands on and really learn from her while she was with us; Vicki has a very unique ability to be able to impart her expect knowledge without any condescension. At the same time, her expert help meant that I could rest and recover from delivery. She understands that everyone is looking for something different when they hire a maternity nurse and adapts to this. What's more, she was friendly, kind and a pleasure to have around (even our dog took a shine to her and would follow her around the house!).

She had our daughter into a great routine, feeding 3 hourly and sleeping well within days and moved her to 4 hourly before she left. She helped us to understand our daughter who was a tricky feeder and projectile vomiter, and she gave very neutral informed advice on breastfeeding V bottle and dealing with issues such as mastitis.

Our daughter was sleeping from her dream feed until 7am by her second week with us; today at 3 months she is still a brilliant sleeper. Before she left Vicki gave us advice on the next few months and how to adapt the routine as she gets older.

The arrival of our first child was a fantastic experience and a far cry from the frazzled sleepless night horror stories that we all associate with a newborn baby. My husband and I feel very fortunate to have met her and would recommend her in a second.
by LJWADE