"Reliable, experienced, caring"

review of TWIN MATERNITY NURSE - Maternity Nurse in London
---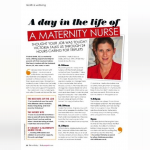 Reviewed
Reliable, experienced, caring
We employed Vicki for 6 weeks after the birth of our son in June 2013. She came recommended by a friend and had a very impressive cv. In the end it was the best decision we could have made. She was friendly, highly experienced, and always willing to do what it took to support us in those first few weeks. I've heard some horror stories about maternity nurses from friends and feel so lucky that we found Vicki, who understands babies as well as anyone can and is able to get them into a good, healthy routine from the start. I had some problems breastfeeding and my baby cried a lot in the hospital but with as soon as we got home, with Vicki's help, we started to establish a good routine and he slept a lot better.
Even since she stopped working for us full time, Vicki has been willing to answer my questions and give me advice (even in the middle of the night!), and she recently came back for a night to help us do some sleep training.
Some people might be worried about sharing those first few weeks with a stranger and wonder what it will feel like, but I can honestly say that Vicki fitted in perfectly. She was discreet, supportive and willing to listen to our concerns and preferences. I would recommend her happily to anyone. She really is the best in the business.
by Munira1