Average age of babysitters rises as baby boomers look for ways to earn more due to high living costs
Have you ever wondered how old the majority of babysitters actually are? Well we've surveyed our database of more than 280,000 babysitters and discovered that the average age of a babysitter in the UK has risen to 32 years old – a 7 year increase from the average age in 2009.
Back then the average age was 25 years old, now eight years on, more than a third (35%) of babysitters are over the age of 50 years old.
The county with the highest average babysitter age in the UK is Nairnshire in Scotland, at 41 years old.
In light of this information, we surveyed babysitters on the platform who are 50 years and older and found that three quarters (74%) babysit to supplement their income because of high living costs, while 15% said it keeps them busy and a tenth (11%) simply enjoy it.
Here are all the areas in the UK with their average age of babysitter: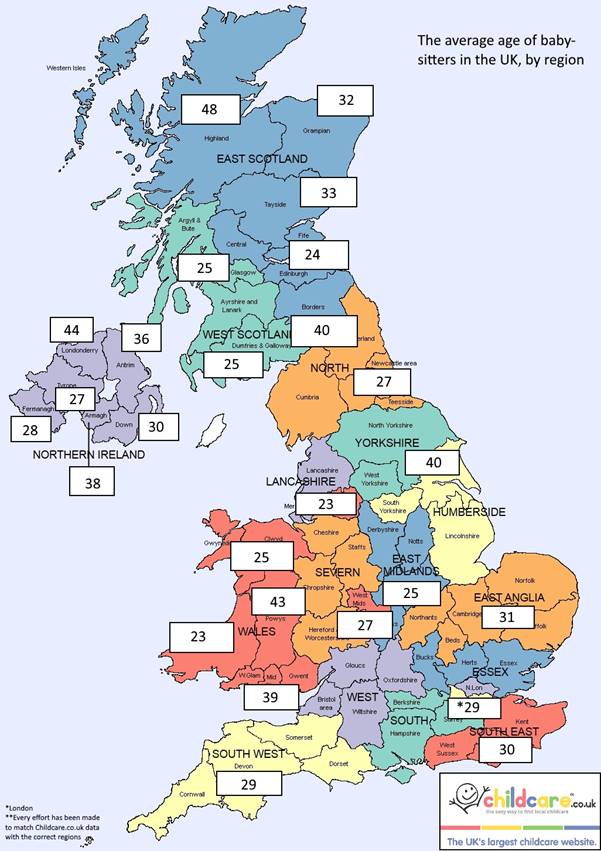 When asked how often they babysit for other people, more than half (52%) answered 5 – 9 hours a week on average. A third (31%) said 10 – 15 hours a week and almost a fifth (17%) stated they babysit for more than 15 hours a week. Of those over 50 that offer babysitting, almost two thirds (68%) said they didn't have children or grandchildren of their own to look after.
Two fifths (42%) of babysitters over 50 have full-time professional jobs including lawyers, doctors and teachers.
Richard Conway, CEO and founder of Childcare.co.uk said,
"We were very surprised at the results of our research, because babysitting is still very much associated with teenagers doing it for a bit of pocket money. However, it would seem that more and more older people are child caring for the extra income as well. This could be because people are living longer therefore their salaries are not substantial enough - something that definitely needs to be addressed by our government.
"Much is made of grandparents looking after their grandchildren for free, but there's a quiet army of older people caring for the children of other people too. On average, babysitters get paid £8.32 per hour, if the majority of older babysitters are child caring for 9 hours a week on average, that's an extra £300 a month, which is a substantial amount. I'm glad that our platform is helping trusted professionals find the work they need."
Don't have an account? Register free today
Sign up in one minute, no payment details required.
Member benefits include:
Add a free profile detailing your requirements or services
Search by postcode for local members near you
Read and reply to messages for free
Optional paid services available