Free Return to Work Coronavirus Toolkit for Childminders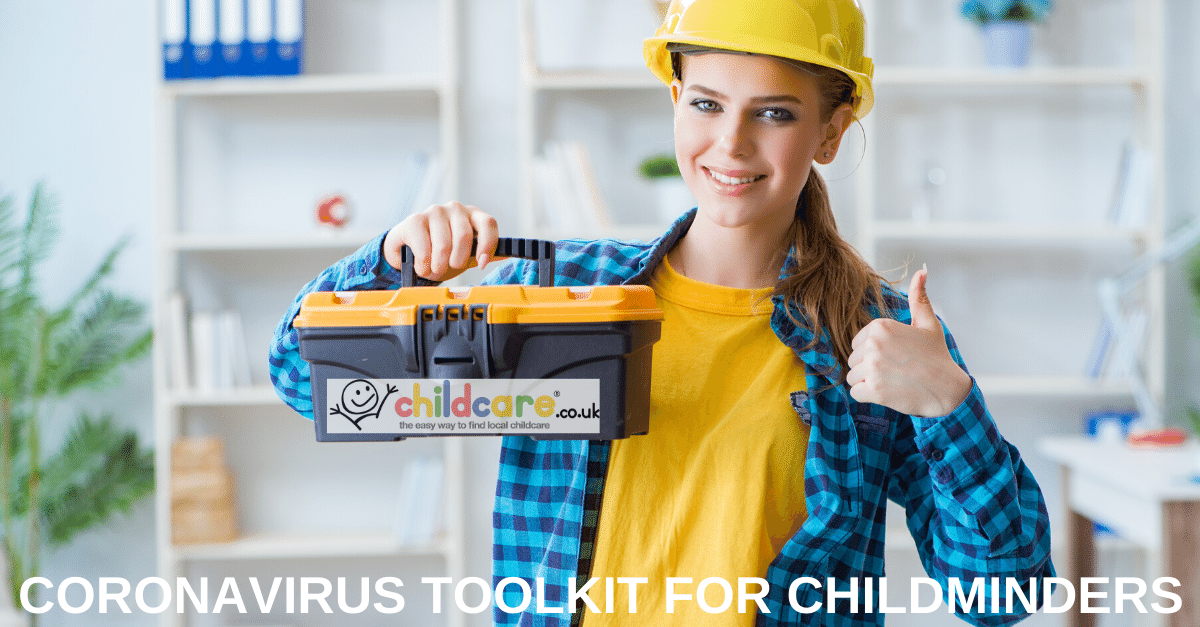 Helping childminders who are returning to work
In order to help childminders return to work after closure due to Coronavirus we have produced this FREE childminder toolkit containing free childminder contracts, free policies & procedures, free risk assessments, free paperwork, free webinars and lots more. PDF documents are free for all members and Word versions are for gold members only. All paperwork has been updated in relation to Covid-19.
We also have a Free Return to Work Coronavirus training video for childminders and early years settings.

Contracts
Free Childminder Contracts - Why pay for contracts when they are free?
Updating contracts for Covid-19 type events
Childminder Contracts (Parent-Provider) [Updated April 2020]
Assistant Contract [Updated March 2020]

Business
Fees Policy [Updated April 2020]
Parent Survey [New 24th May 2020]
Supporting Home Learning [New 26th May 2020]
Staying in-touch - Staying Safe [New 26th May 2020]
Free Policies & Procedures - Over 24 free policies and procedures
Childminder Policies and Procedures (all updated)

Medical & Emergencies
Supporting Children with Bereavement
Illness and Infection Control Policy [Updated April 2020]
Illness Record Form [Updated April 2020]
Ongoing Medication Permission Form [Updated May 2020]
More free childminder forms (22 in total)

Coronavirus Risk Assessments
Coronavirus Risk Assessment webinar [Watch again on Webinar Player - Gold members only]
Coronavirus Risk Assessment Guidance [Updated 17th May 2020]

First Aid & Safeguarding Training
Paediatric First Aid and Safeguarding Training Advice [Updated April 2020]
Paediatric First Aid Course [15% Tigerlily Discount]

Return to Work Staff Bundle
Staff Return to Work Bundle - This staff / childminder assistant return to work bundle contains a staff record form, staff supervision form and staff declaration form – a 'print and use' option for all childminders.
Staff Anxiety & Stress [New 16th May 2020]
Supporting Vulnerable Staff [New 18th May 2020]

Return to Work Learning and Development Bundle
This learning and development return to work bundle contains advice for assessing children's learning, an 'all about me now' questionnaire for parents, 'starting points' sheets for different ages of children and a simple progress tracker – a 'print and use' option for all childminders.

Return to Work Safeguarding and Welfare Bundle
This safeguarding and welfare return to work bundle contains updated child registration form, consent and information sharing form, non-prescribed medication form, emergency contact form and parent-provider contract – a 'print and use' option for all childminders.
Safeguarding and Welfare Bundle

Staying Safe - Hand Washing, Cleaning and Social Distancing
Coronavirus Early Years training video
Hand Washing Procedures - NHS information on how to wash your hands
Cleaning and Disinfecting your Childcare Setting
Steps to Controlling Coronavirus [New 26th May 2020]

Return to Work Webinars
You can watch previous webinars after broadcast on our Webinar Player
Restarting your Business Webinar [Watch live 2nd June 2020]
Staff Training (including childminders) Webinar [Watch live 9th June 2020]
Curriculum Planning Webinar [Watch live 16th June 2020]
Welcoming New Families Webinar [Watch live 23rd June 2020]
Time Management [Watch live 30th June 2020]

Information for Parents
Starting School Tips for Parents and Providers
Parent Discussions [New 31st May 2020]

Childminder Insurance
Am I insured to work during the Coronavirus pandemic?
The Childcare.co.uk childminder insurance policy does not exclude injury claims arising from allegations of injury from infectious diseases if caused by accident, however if the act is deliberate then there is no policy cover. You must ensure that you follow guidelines and regulations set by the government, your regulator and public health departments.

DISCLAIMER
The coronavirus crisis is a fast moving situation and new guidance may be released by Department for Education, Public Health England and other governmental agencies at any time. For this reason, we reserve the right to update or change any documents on this page at any time in the future.