Changes to the EYFS 2021 Q&A
Is there a new EYFS?
Yes, after a lengthy consultation, the final version of the EYFS 2021 was published by the Department for Education at the end of March. Read EYFS 2021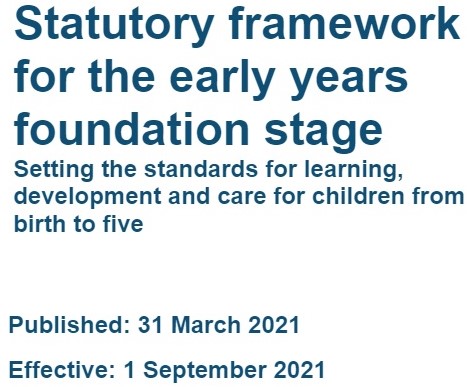 When do I have to start using it?
The revised EYFS 2021 statutory framework must be used from 1st September 2021.

Do I need to print it?
That is your decision – you can print or read it online.

Why have the Department for Education updated the EYFS again?
The DfE state that the intended aims of the updates are to:
• Improve outcomes for children.
• Strengthen language development, particularly for children from disadvantaged backgrounds.
• Reduce workload for practitioners so they can spend more time playing and interacting with the children, supporting their learning.

What are the main changes to the EYFS 2021?
There are changes to the learning and development requirements:
• New educational programmes.
• Revised wording around play and adult-guided teaching.
• New definition for the learning characteristics.

There are changes to the safeguarding and welfare requirements:
• Mostly tweaks to make the requirements clearer.
• A new requirement to promote good oral health.
• Updated links to more information and guidance documents.

Have the 7 areas of learning changed?
No, the 7 areas of learning are still the same:
• Communication and language.
• Personal, social and emotional development.
• Physical development.
• Literacy.
• Mathematics.
• Understanding the world.
• - Expressive arts and design.
What has changed is the way they are set out and the content of the educational programmes.

Do I still have to do a progress check for my 2 – 3 year olds?
Yes, the Progress Check at 2 remains statutory.

Are there any other changes to the EYFS 2021?
Yes, there are some changes to the early learning goals but they are an end of reception test and not relevant to early years providers.

Is there any guidance to help me?
Yes, the Department for Education has released a quick guide to the changes:
There is a non-statutory guidance document to help you plan your curriculum called Development Matters 2020.
The Department for Education had to update the current Development Matters 2012 – it was out of date, not relevant to the new EYFS educational programmes and too heavily relied on as a tick list which is something they are keen to get away from using.

Do I have to use Development Matters 2020?
No, it is non-statutory guidance and you can decide whether it is useful or not.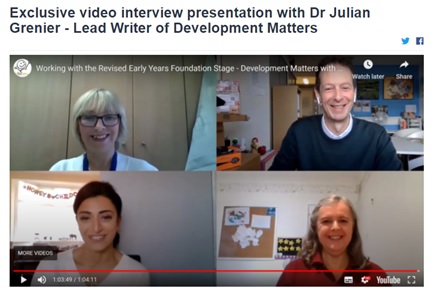 Childcare.co.uk commissioned a video discussion between the lead writer of Development Matters 2020, Dr Julian Grenier and Sarah Neville to help you understand the way the guidance might help you. Watch the video

I've heard there is more guidance – what is it?
A consortium of early years professionals joined together to write an additional non-statutory guidance document called Birth to 5 Matters 2021.


They have completely updated the original Development Matters 2012 guidance, while keeping the layout we have been using for the past 8 years. Birth to 5 Matters contains a lot of underpinning knowledge as well as tables giving ideas for assessment and learning experiences. It is not a tick list and should not be used as such.

Do I have to use Birth to 5 Matters?
No, it is up to you whether you find it helpful or not.
Childcare.co.uk are working on more guidance to help you with this document.

What am I going to do without a tick list?
This is perhaps the most frequently asked question – there is a lot of concern that children will 'fall behind' and providers will not be able to check children are making progress without using assessment tick lists. Neither Development Matters 2020 nor Birth to 5 Matters are tick lists and should not be used as such – and, as we said at the start, one of the DfE stated aims of the changes is to reduce the paperwork burden.
This will mean providers will need to rely on their knowledge of child development and get to know the children really well, to see what they know and can do and to help them learn new things and practice what they already know.
Childcare.co.uk has already commissioned a series of webinars about child development. Gold members can watch them again on Webinar Player.

How do Ofsted fit into all these changes?
Ofsted are the regulator and were consulted on the changes by DfE. Ofsted have stated that early years inspections are re-starting from May 2021 and they will use the current EYFS 2017 until September 2021. From September 2021, Ofsted will inspect early years settings in England on the new requirements.

Does Ofsted have any guidance?
Yes, Ofsted have written some of their own inspection guidance which is currently (April 2021) being updated to include, for example, some information about the inspection timescale changes and revisions they are making to inspection to keep everyone as safe as possible for Covid-19.
You can read the current version of the early years inspection handbook, but you should expect an update after Easter 2021.

What does Ofsted focus on during inspection?
Ofsted's main inspection question is: 'What is it like for a child here?'.
The inspector will talk to you about your teaching and curriculum and watch your interactions with the children; they will also check that you are compliant with all the safeguarding and welfare requirements. Ofsted have stated clearly in blogs and training on the new inspection framework that inspectors will not ask to look at any paperwork which is not required by the EYFS 2021.

How do Ofsted inspect teaching?
Ofsted have published a helpful 'definition of teaching' in footnote 16 of their early years inspection handbook – it's everything you do with the children.



You will also find more guidance on teaching in the 'Principles into Practice' guidance which has been published by Dr Julian Grenier. It is available free alongside the Development Matters 2020 guidance.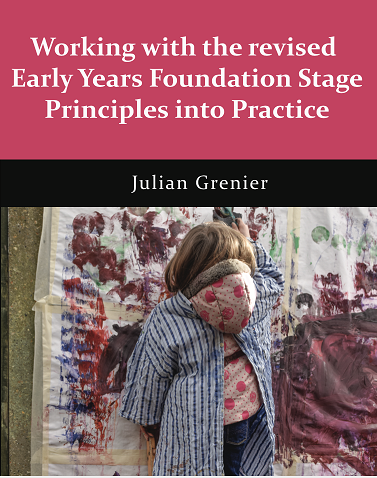 How do Ofsted inspect the curriculum?
Ofsted will want to talk to you about your curriculum intent, implementation and impact – what you plan to do, how you are going to do it and what your assessment tells you about children's learning. You do not need this information in writing if you can explain it to the inspector and Ofsted have confirmed they will not look at tick lists, graphs, diagrams or other evidence – they will want you to talk them through what the child knows and can do and the progress the child is making from their starting points.

What do I need to do next?
Our advice is to spend your time:
• Reading through the new requirements.
• Looking at the new guidance documents.
• Checking your child development knowledge is secure.
• Watching the Childcare.co.uk webinars on the revisions to the EYFS.

When you have done your professional development, you will be in a better place to:
• Think about what you do well and what you want to change.
• Consult with staff and colleagues to help you make any changes.
• Update parents with information about any changes you are going to make.

How can I find out more information about the changes?
Childcare.co.uk will present a free webinar on the changes to the EYFS 2021 on 4th May 2021. Register for the free webinar
After broadcast, gold members can watch the webinar again on Webinar Player.
Don't have an account? Register free today
Sign up in one minute, no payment details required.
Member benefits include:
Add a free profile detailing your requirements or services
Search by postcode for local members near you
Read and reply to messages for free
Optional paid services available