"Great Maternity Nurse"

review of TWIN MATERNITY NURSE - Maternity Nurse in London
---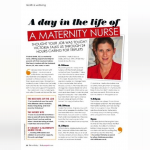 Reviewed
Great Maternity Nurse
I employed Vicki as a maternity nurse to work with us when my daughter was 6 weeks old. I had originally booked Vicki for 7 weeks, but she was so invaluable we asked her to stay on for additional weeks and is coming back for a further 2 weeks to work with us now my daughter is 6 months.

As a first time mum as I was very anxious but with Vicki's calm and caring nature she put my mind at ease about many aspects of caring for my baby. She also helped with breastfeeding and expressing which I found very difficult at first.

My daughter was not in any sleeping or feeding routine when Vicki arrived and within 24 hours both these aspects had improved enormously. Vicki got my daughter into a flexible routine that works very well for our family and best of all helped my baby to learn to self soothe and she sleeps through every night which is fantastic and this is all down to Vicki.

Vicki is very easy going and fitted well into the household. She helped around the house and also cooked some lovely meals for us and cakes!

I was initially worried about having a stranger in our home at a very challenging time but Vicki was very considerate and discrete.

I would highly recommend Vicki to any future employer she is great at her job and also a lovely person to have around.



by LISAN19