"Outstanding Maternity Nurse"

review of TWIN MATERNITY NURSE - Maternity Nurse in London
---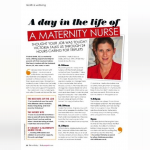 Reviewed
Outstanding Maternity Nurse
Vicki worked with us for 8 weeks starting right after the birth of my twins in August 2011, and then she looked after them for one week when they were 3 month old to allow my husband and I to travel.

She was highly recommended to us by another family she had worked for and we do believe having hired her was probably the best decision we could have taken. Having a first child, and in my case two, can be an overwhelming experience. With Victoria helping us, not only taking care of the babies but also teaching us how to handle them, meet their needs, creating a routine, we managed to enjoy this wonderful life changing experience in the most serene and joyful manner.

One of my babies had a problem at birth for which he spent 3 weeks in ICU and luckily Vicki was there taking care of the second baby and helping my husband in those first difficult weeks.

Handling twins is a lot of hard work and Vicki did that in a very natural and relaxed way, which is automatically transmitted to nervous first time parents. She would take care of both of them during the night, allowing me to rest and recover from the birth, while during the day I specifically wanted to be fully involved and look after them alongside Vicki so that I could learn from her and leverage on her experience while she was there.

She is kind, thoughtful and well-organized and was indispensable in the process of putting my babies on the right schedule. We often hear desperate parents describing their experiences with young babies and we feel so lucky to have had such different experience. Today my babies sleep properly, eat properly and follow a very simple and defined schedule, and while undoubtedly personality plays a role in that, we strongly believe that having put a structure into their and our lives since day one was critical to that, and we thank Vicki for that.

I wouldn't hesitate in giving Vicki the highest recommendation to any future employer and I feel that she could rise to any challenge of any household.

by Felicia0