"Wonderful Maternity Nurse"

review of TWIN MATERNITY NURSE - Maternity Nurse in London
---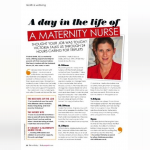 Reviewed
Wonderful Maternity Nurse
Vicki worked for us for the first month of our son's life. Vicki is a truly wonderful maternity nurse whom I would highly recommend

We have a 6 yr old daughter who suffered from silent reflux as an infant making the first couple of years difficult and resulted in little sleep for the family. We were anxious our son may suffer from the same condition and wanted help in establishing a routine so hired a maternity nurse to assist us.

Vicki is incredibly experienced, knowledgeable and capable. From the moment she arrived, Vicki began to settle our son into the routine we had requested. Vicki is clear and completely focused on the task at hand. She is warm, compassionate and 'human' (a rare quality in many maternity nurses!).

She was an absolute pleasure to have in our, rather overcrowded, house and settled in immediately with the family. She was ridiculously patient with our 6yr old and was happy to do whatever was necessary to help the whole family function at its best. Vicki was also more than willing to help with other tasks such as collecting my daughter from school, walk the dog, chauffeur me around after my C section, go to the supermarket, organise my sons passport etc.

During Vicki's time with us my mother was suddenly taken ill and Vicki happily looked after both children whilst I was with my mother in hospital. Her talents also extend to photography and mouse catching!

Most importantly, Vicki was absolutely wonderful with our son. Her extensive experience was immediately evident and my sons needs were met from day one. Vicki was focused in establishing the routine we had requested but she was also incredibly warm and her care of our son was impeccable.

As a second time mum I learnt a huge amount from Vicki. She did so much more than was expected and made the first few weeks of our sons life a joy for the whole family.

I cannot recommend Vicki highly enough and would definitely ask her to come and help us again if we have any more children. I would have loved to have had Vicki stay with us for longer but she is so highly in demand that she was booked up a long time before she was recommended to me through a friend.

by Roseandg