"Excellent Maternity nurse & Trouble Shooter"

review of TWIN MATERNITY NURSE - Maternity Nurse in London
---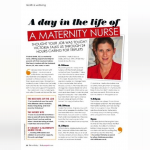 Reviewed
Excellent Maternity nurse & Trouble Shooter
Vicky Smith was maternity nurse to our two newborn twins for 8 weeks in August and September of 2013.

Vicky has many brilliant qualities that make her ideally suited to being a maternity nurse, which I describe more below, but her absolute stand-out skill, rare I think amongst maternity nurses, is a uniquely high degree of problem solving.

Problems in our new twins she helped us identify and solve:
• Lactose intolerance (allergy to milk sugar)
• GERD (a particularly bad form of acid reflux that causes severe distress on feeding)
• Constipation
• Uneven sleeping rhythms
• Reverse cycling (when babies are more awake during the day than the night)

She also worked with the various challenges twins and new parent-hood often brings.
• For instance, one of our twins was only 4lb when we returned from the hospital and needed extremely frequent feeding. (Virtually every 2 hrs 24 hrs a day).
• Also, we were new parents with a real lack of baby skills, all of which she helped us master. And over time our needs for help alternated with a need for private time, and she adapted very willingly and with good humour to all our developments.

It goes without saying that any maternity nurse worthy of the name has a strong affinity for babies and Vicky is no exception. She tunes in to them and cares for them with kindness and patience second to none. But what is not always appreciated is that the parents too, need support and understanding, and in this Vicky's flexibility, responsiveness and super-even, cheerful temperament were invaluable.

In the 8 weeks she lived with us, she never caused us any stress and was always a reassuring, welcome presence, who became a friend in times of maximum joy & stress. But I will wager that even if you sometimes find these qualities in other maternity nurses, you will not find someone as totally committed to solving all and any challenge the babies present.

In fact, Vicky loves a challenge. She thrives on being able to use her considerable knowledge and intelligence to work out how to solve things and is ceaselessly thoughtful in finding a solution.

I recommend her whol- heartedly as a general-support maternity nurse, but in particular for all types of problem solving and infant feeding and sleep management.

by Eva Lox