"Maternity Nurse for our 3 children"

review of TWIN MATERNITY NURSE - Maternity Nurse in London
---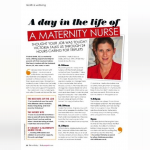 Reviewed
Maternity Nurse for our 3 children
Vicki was maternity nurse to our new born son in Nov and Dec 2010. During that time, she very quickly put him on a routine, which he thrived on. It was not before long (at about 3 weeks old) that he was going through the dream feed (1030pm) to 7am with no interruption. In addition to the excellent routine, she cared for him with a great deal of love and affection. At 4 years old, he continues to be a very happy, content little boy who is also an amazing sleeper.
We called Vicki back in August of this year, for 8 weeks to help us care for our newborn twin girls. Again she did a phenomenal job caring for them. It was not before long that one of my girls was sleeping through the night and the other one followed shortly after. Vicki put them in an excellent routine from the day they got home from the hospital. She helped me with breastfeeding the girls and keeping my milk supply so that I could continue feeding the girls until they were past 3 months old. She left us with very happy and contented little babies .
I cannot recommend Vicki enough to any family with a newborn, whether it be a singleton or multiples. She has a tremendous ability to be able to understand babies, do what's right for them and be a great support to the parents. She is a very calm person and in the four years I have known her, she has never been anxious or nervous around our babies. As a matter of fact, she loves a good challenge and thrives on difficult situations. After she left us, she continued to guide and advise me on getting my twins through their routine and helping me with any questions or concerns I had.
She regularly keeps in touch and over the years has come back to visit our son. Being a maternity nurse is much more than a job for Vicki, it is a true passion and she really excels at it. During the time she was with us, the atmosphere in our home was very calm and relaxed. It was hard to believe that we had 3 children under the age of 4. My twin girls are now 16 weeks old and are great sleepers and are very happy and content little babies !
I would not hesitate recommending Vicki to any mother looking for a maternity nurse... she really is fantastic.
by Mamadxb