Parents, Childcare & Covid-19 FAQ
At Childcare.co.uk we are doing everything we can to help and support parents during the Covid-19 pandemic.
Latest updates
• England: Lockdown 3 - Childcare and early years settings remain open including nurseries, childminders and nannies
• Scotland Lockdown - Childminders may remain open for all children
• Scotland Lockdown - Nurseries closed except for key worker children or vulnerable children
• Scotland Lockdown - Essential informal childcare is permitted including nannies and babysitters

Latest guidance from the Department for Education, Ofsted and Government
• Education and childcare settings
• National lockdown: Stay at Home
• Actions for early years and childcare providers during the coronavirus outbreak
• Education and childcare settings: national lockdown from 5 January 2021: Guidance for all early years settings and local authorities in England
• What parents and carers need to know about schools, colleges and other education settings during the coronavirus outbreak
• Actions for schools during the coronavirus outbreak
• Contingency framework: education and childcare settings
• Working safely in homes during Coronavirus
• Ofsted Coronavirus rolling update
Can childminders and nurseries open?
In England childminders and nurseries can remain open for all EYFS children (birth to 5 years old).
Childminders may also provide care for older children of keyworkers/critical workers or vulnerable children. For example, for wraparound care (before and after school).
In Scotland childminders remain open for all children but nurseries may currently only open for keyworker children and vulnerable children.
Is childcare permitted in England during national lockdown 3?
Yes, a third national lockdown in England was announced on 4th January 2021. However, the English government have announced that early years childcare settings including nurseries and registered childminders may remain open. Nannies may also continue to provide childcare in a child's home.
You can read more about the childcare and the national lockdown restrictions on the .gov.uk website.
Here is an extract from the .gov.uk website that provides details on childcare permitted during lockdown 3.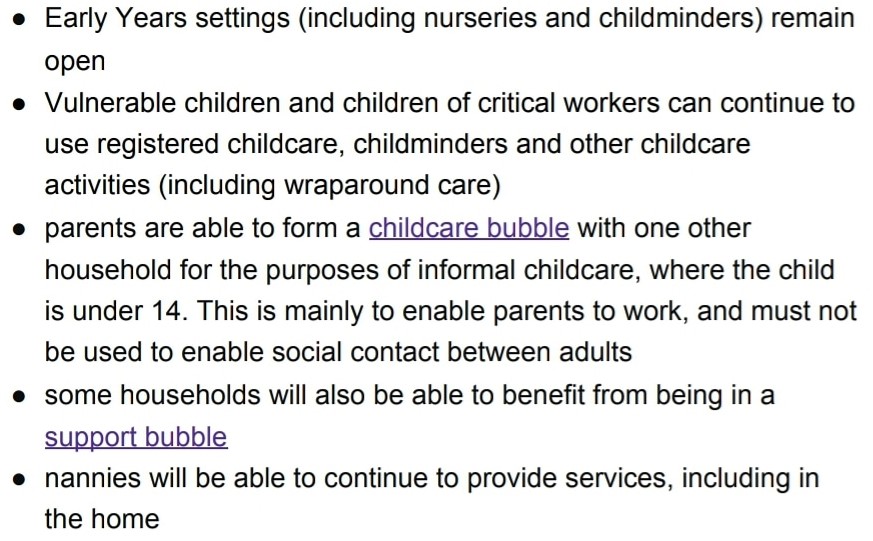 What are the rules in Scotland?
Scotland Latest: .gov.scot - Coronavirus (COVID-19): what you can and cannot do
Scotland introduced a new lockdown from 5th January 2021.
Examples of reasonable excuses to go out:
• for childcare or support services for parents or expectant parents.
It also says: "From 26 December to 18 January, in Scotland, regulated early learning and childcare and school age childcare services can only open to children of key workers and vulnerable children."
"Only essential informal childcare is permitted in Scotland. ​​​Only children should enter the home of another household."
On the parentclub.gov website, operated by the Scottish Government it states:
"Registered childminders, however, can remain open for all children."
This suggests registered childminders may open for all children. Parents can use nannies and babysitters for in-home childcare if it is essential. Nurseries are only open for key worker children and vulnerable children.
What are the rules in Wales and Northern Ireland?
Wales: .gov.wales - Education and childcare: coronavirus
Northern Ireland: nidirect.gov.uk - Coronavirus (COVID-19): advice about childcare
Can school aged children of a critical worker parent attend a childminder instead of school?
Childcare.co.uk have spoken to the DfE about such a scenario and the DfE have stated that, under the current 'national lockdown: stay at home' childcare information, a school child with a critical worker parent should be able to attend their childminder if they, for example, cannot access a space at school or if parents feel it would be safer for the child to be with their childminder.
Can I still use a nanny or babysitter?
Yes. The government have stated nannies will still be able to continue to provide services in the home (see screenshot above).
They also say:
There are still circumstances in which you are allowed to meet others from outside your household or support bubble in larger groups, but this should not be for socialising.
The main reasons are for work, voluntary or charitable services, and formal education or training (as opposed to extracurricular classes). This includes where you are fulfilling legal obligations. It can also include work in other people's homes where necessary - for example, for nannies, cleaners or tradespeople.


Any nanny who does not feel safe or comfortable continuing to work should speak to their employer. No nanny should be forced to continue to work if they do not feel safe to do so.
We recently introduced the idea of a Virtual Nanny which allows a nanny to work from the nanny's own home if the child's parents are working from home. Having a Virtual Nanny is something that nannies and their employers may like to consider.and the idea is already providing very popular.
Can a childminder or nursery still charge parents if they are closed?
It will depend upon the contract with your childcare setting but generally you wouldn't be able to be charged fees if the setting was unable to provide childcare. Some parents are willing to pay full or reduced fees for a period of time in order for a childminder or nursery to hold their places but this would be something you would have to negotiate with the childcare setting. On 30th April 2020, the Competitions and Markets Authority announced that it would be investigating a number of sectors in relation to contracts with their customers. Nurseries and childcare providers were specifically mentioned as one of the sectors being investigated due to the high number of complaints being received.
My nanny is ill - do I still have to pay?
Nannies are generally employed on a PAYE basis and are entitled to the usual benefits of being employed including sickness pay. Your contract of employment with your nanny will state how much you should pay them in the event that they are sick but it should be at least the statutory minium (SSP). The government have stated that employees are entitled to SSP from day one of being ill.
I'm a parent whose family is self-isolating - can my nanny still work in my home?
If you or a member of your family is self-isolating and your nanny has been in recent contact with you then it is recommended that they self-isolate too. In these instances they may choose to self-isolate with you in your own home but they may alternatively choose to self-isolate in their own home. You would still generally be obligated to pay your nanny in full because they are unable to work due to your family's self-isolation although you may prefer to furlough your nanny using the Coronavirus Job Retention Scheme if you meet the eligibility requirements.
Can a nanny be furloughed?
The government expressly stated that nannies can be furloughed under the Coronavirus Job Retention Scheme. The government have stated that Individuals can furlough employees such as nannies provided they pay them through PAYE and they were on their payroll on, or before, 28 February 2020. The furlough scheme has recently been extended until 31st March 2021.
My child's school is closed, I want to use a private tutor. Is this allowed?
We are seeing increasing number of parents searching for private tutors due to worries about their childrens' education whilst they are off school. Many private tutors are now offering themselves as Virtual Tutors, providing remote tutoring via video calling platforms such as Zoom, Skype, FaceTime, Google Hangouts and WhatsApp. This is a safe and fun way for your children to get expert help with their studies. We have over 5000 tutors on our platform.
I work for the NHS - Can I use your platform for free?
Yes. We are offering free access to our messaging service for NHS staff during the coronvirus pandemic. All childcare providers may also message NHS workers without paying. A number of our childcare provider advertisers are also offering a few hours of free out-hour-hours emergency childcare to NHS workers when their regular paid childcare setting is closed.
What is a key worker/critical worker?
The list is quite wide and includes NHS staff, social care workers, school & nursery staff, police officers, court staff, religious staff, journalists, some government staff, delivery workers, supermarket staff, army and MoD, firefighters, prison & probation staff, transport workers, infrastrucure workers such as gas & electricity and some financial services staff.
How do I check childcare providers are qualified and suitable?
We have a detailed online guide for parents about checking childcare providers and more information in our safety centre.
Stay Updated
We will post news and updates for parents about Covid-19 on this page of our website. Please check by regularly for the latest news.
Don't have an account? Register free today
Sign up in one minute, no payment details required.
Member benefits include:
Add a free profile detailing your requirements or services
Search by postcode for local members near you
Read and reply to messages for free